Coming soon! The O3R Perception Platform
Featured Product from ifm electronic gmbh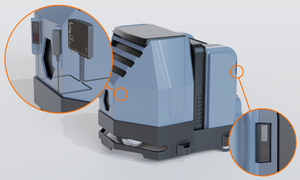 O3R perception platform
The O3R perception platform is a multi sensor and camera gateway in the size and cost structure of consumer products - with the long-term availability and robustness of industrial products. Up to six camera heads can be connected to the central processing unit via FPD link and additional sensors such as radar or lidar can be connected via Gigabit Ethernet interface. Due to the flexible installation position and arrangement, variably different areas can be scanned and, for example, collisions with obstacles that protrude into the travel path above the field of view of the safety scanner can be prevented.
The powerful central edge compute unit offers enough space to run your own algorithms or to use ready-made functions such as collision avoidance or pallet detection.
The O3R platform is the comprehensive solution for centralised, synchronised processing of image and sensor information in autonomous mobile robots, such as AGVs. The simplified integration and reliable interaction of cameras and sensors enables the robust implementation of relevant functions such as collision avoidance, navigation and positioning. In addition, analysis and dimensioning of stationary objects can be implemented, and is handled more effectively by means of several cameras. Examples include the measurement of pallets, logs, packages or suitcases.
Follow ifm online:
Watch>>>Close to you
After many years of intensive cooperation with our customers we have established ourselves in the market as service-oriented sensor specialists and today we are represented by more than 7,000 employees in over 85 countries worldwide. Even though we have grown into a big company we have still maintained the virtues of the founding years: The flexibility and individuality of a small enterprise and the quality and professionalism of a group. And our customers are still today in the centre of our work - close to you.
ifm
ifm develops, produces and sells sensors, controllers, software and systems for industrial automation and digitalization