Conductivity sensor LDL100 for interface detection
Featured Product from ifm electronic gmbh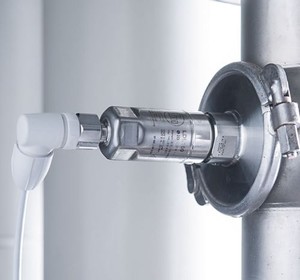 Advantages of LDL at a glance:
Much shorter commissioning time
No need for additional evaluation electronics
Simple wiring using M12
Robust and compact design
The fully welded stainless steel housing prevents water ingress
Attractive offer
High availability and fast delivery times
Flexible adapter concept reduces / simplifies warehousing
Conductivity sensor LDL100 for interface detection
Reduce inaccuracies associated with a time-based cleaning process
Improve process performance with flexible measurement points
Compact, high-quality sensor design prevents failures and unplanned downtime
IO-Link:
Simplify your installation and commissioning processes
Loss-free signal transmission of measurement values
Applications
The differentiation between media plays an important role, especially in the food industry. Cleaning agents, rinsing water and food products located in process pipes have different conductivity values and can therefore be easily and reliably detected.
Benefits
Product validation is possible at all times. Quick and reliable differentiation between the media leads to a reduction in wasted product and rinsing water.
Handling
The ability to differentiate between products is an out-of-the-box solution. During installation it is not necessary to make adjustments to the sensor. Enhanced functions are available such as simulation.
Watch>>>Close to you
After many years of intensive cooperation with our customers we have established ourselves in the market as service-oriented sensor specialists and today we are represented by more than 7,000 employees in over 85 countries worldwide. Even though we have grown into a big company we have still maintained the virtues of the founding years: The flexibility and individuality of a small enterprise and the quality and professionalism of a group. And our customers are still today in the centre of our work - close to you.
ifm
ifm develops, produces and sells sensors, controllers, software and systems for industrial automation and digitalization