Conductivity sensor LDL200 for CIP monitoring
Featured Product from ifm electronic gmbh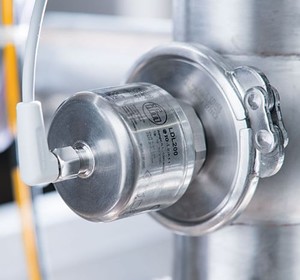 Conductivity sensor LDL200 for CIP monitoring – a new approach
Reduce inaccuracies associated with a time-based cleaning process
Improve process performance with flexible measurement points
Compact, high-quality sensor design prevents failures and unplanned downtime
IO-Link:
Simplify your installation and commissioning processes
Loss-free signal transmission of measurement values
Applications
The sensors are used in cleaning processes (CIP) in the food industry. They detect the concentration of cleaning agents, check the rinsing water for residues and for product validation.
Potential
Precise, fast and reliable measurements during the process help to improve plant availability and optimize cleaning cycles. Reduced amount of cleaning agents, lower energy consumption during rinsing and lower water consumption result in considerable cost savings.
Benefits when using ifm
Simple order process, extremely short delivery times, user-friendly integration into the application – Are you now interested?
Watch>>>Close to you
After many years of intensive cooperation with our customers we have established ourselves in the market as service-oriented sensor specialists and today we are represented by more than 7,000 employees in over 85 countries worldwide. Even though we have grown into a big company we have still maintained the virtues of the founding years: The flexibility and individuality of a small enterprise and the quality and professionalism of a group. And our customers are still today in the centre of our work - close to you.
ifm
ifm develops, produces and sells sensors, controllers, software and systems for industrial automation and digitalization