Efficient water treatment with smart solutions
Featured Product from ifm electronic gmbh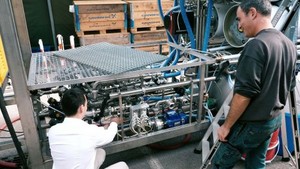 Efficient water treatment with smart solutions from ifm
Your advantages with digitised automation
Installation time reduced up to 60 percent.
Configure sensors on site or remotely.
Early detection of maintenance requirements thanks to permanent data evaluation.
NEREUS: smart automation for efficient water recovery
Nereus integrates ifm sensors in its filtration systems in order to ensure their trouble-free operation and reliable function. Thanks to IO-Link, precise data is available to the company without conversion losses. In addition, the company saves a lot of time in the production process: The cabling can be implemented more quickly and without errors, and the parameter setting of the sensors takes less time. Thanks to seamless transfer of all files to the IT level, Nereus is able to monitor all installations remotely and react immediately if necessary. This significantly reduces the downtime of plants
Follow ifm online:
Watch>>>Close to you
After many years of intensive cooperation with our customers we have established ourselves in the market as service-oriented sensor specialists and today we are represented by more than 7,000 employees in over 85 countries worldwide. Even though we have grown into a big company we have still maintained the virtues of the founding years: The flexibility and individuality of a small enterprise and the quality and professionalism of a group. And our customers are still today in the centre of our work - close to you.
ifm
ifm develops, produces and sells sensors, controllers, software and systems for industrial automation and digitalization