Incremental encoder with solid shaft and display
Featured Product from ifm electronic gmbh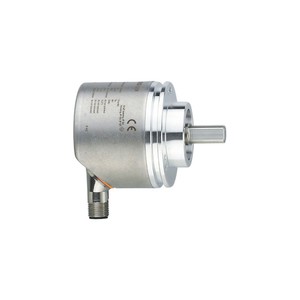 RVP510
Incremental encoder with solid shaft and display
Can be configured as encoder, speed monitor or counter
Clearly visible LED display with red/green colour change
User-friendly communication and parameterisation via IO-Link
High shock and vibration resistance thanks to magnetic sensing principle
Resolution freely programmable from 1 ... 10,000
Encoders - Complete product line
Compact and robust housing
Designs to proven industrial standard
Cable entry for axial and radial use
Versions with integrated fieldbus interface
Overall programme
In many manufacturing and production processes, in mobile machines and in the area of renewable energies encoders have become established as reliable instruments to ensure precise positioning. They convert rotary movement into digital signals. Encoders use the wear-free photoelectric or magnetic detection. A pulse disc firmly attached to the shaft or a movable magnet carrier ensures this detection.
A distinction is made between incremental and absolute encoders.
Incremental encoders generate a precisely defined number of pulses per revolution. They are a measure of the angular or linear distance moved.
Absolute encoders provide an absolute numerical value for each angular position even over several revolutions.
Sensors for motion control
In many industrial applications it is necessary to monitor drives for rotational speed or standstill, measure speeds, frequencies, distances, angles or positions and display, process and transmit current process values.
In the automotive, food, steel and mining industries, speed sensors are used to safely detect standstill, overspeed and underspeed of drives or belt break on conveyors. On mobile machines such as fork-lift trucks, speed sensors serve as speed pick-ups.
In the materials handling and wood industry, encoders have become established as reliable instruments for position and linear measurement.
Speed monitors allow tailor-made monitoring of slow and fast rotational speeds as well as complex slip, synchronous or direction monitoring.
Multifunctional displays indicate effective values and signal to the controller if limit values are reached or exceeded, or they calculate and display speeds, quantities and processing times.
Watch>>>Close to you
After many years of intensive cooperation with our customers we have established ourselves in the market as service-oriented sensor specialists and today we are represented by more than 7,000 employees in over 85 countries worldwide. Even though we have grown into a big company we have still maintained the virtues of the founding years: The flexibility and individuality of a small enterprise and the quality and professionalism of a group. And our customers are still today in the centre of our work - close to you.
ifm
ifm develops, produces and sells sensors, controllers, software and systems for industrial automation and digitalization