Inductive sensor in M8 design
Featured Product from ifm electronic gmbh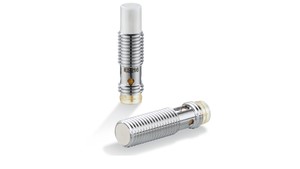 Long range in miniature format: inductive sensor in M8 design
30 mm sensor for restricted space
Long range of 6 mm for non flush mounting
Sealed: protection ratings IP 65 to IP 69K
Screw-through thread for flexible mounting
Light, small and tough
The extremely compact housing has its strength wherever there is restricted space for sensors or where the additional mass is to be kept low: In factory automation, on machine tools or on fast moving robot arms the miniature sensor scores with a range that is almost as long as that of larger designs. Thanks to its stainless steel housing it is extremely resistant. With a temperature range from -40 to 85 °C it is also suited for use in the food industry.
The threads are precisely matched to each other to simplify installation in restricted spaces. The sensor can be screwed into the provided bore hole from the front or from the back. Four LEDs arranged in 90° steps allow visual inspection of the switching state in any position.
Watch>>>Close to you
After many years of intensive cooperation with our customers we have established ourselves in the market as service-oriented sensor specialists and today we are represented by more than 7,000 employees in over 85 countries worldwide. Even though we have grown into a big company we have still maintained the virtues of the founding years: The flexibility and individuality of a small enterprise and the quality and professionalism of a group. And our customers are still today in the centre of our work - close to you.
ifm
ifm develops, produces and sells sensors, controllers, software and systems for industrial automation and digitalization