New OCF fiber optic sensor
Featured Product from ifm electronic gmbh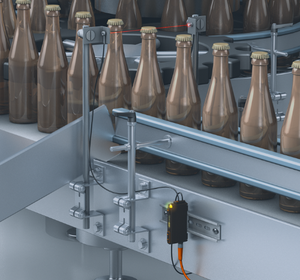 Fiber optic sensor: smart, fast, convenient
Intelligent clamping system simplifies installation
Fast commissioning thanks to intuitive menu navigation and OLED display
Automatic selection of the appropriate operating mode
Two switching outputs – for fast processes and diagnostic options
Helpful maintenance functions support plant availability
OCF Fiber Optic Sensor
Convenient installation and operation
Wherever the smallest or transparent objects have to be detected in confined installation conditions, the use of light wave technology is the best choice. With the OCF fiber optic sensor, this technology can be used even more easily and reliably. The OCF already offers a lot of comfort during installation: Two spring-loaded snap noses enable DIN rail mounting of the OCF with one hand. The Fiberlock system simplifies the reception of the optical fibers. With the automatic selection of the optimal operating mode and the intelligent maintenance functions, the OCF then works reliably under all conditions and thus contributes to a high performance and availability of the system.
Follow ifm online:
Watch>>>Close to you
After many years of intensive cooperation with our customers we have established ourselves in the market as service-oriented sensor specialists and today we are represented by more than 7,000 employees in over 85 countries worldwide. Even though we have grown into a big company we have still maintained the virtues of the founding years: The flexibility and individuality of a small enterprise and the quality and professionalism of a group. And our customers are still today in the centre of our work - close to you.
ifm
ifm develops, produces and sells sensors, controllers, software and systems for industrial automation and digitalization