Powerful IO-Link master for the food industry
Featured Product from ifm electronic gmbh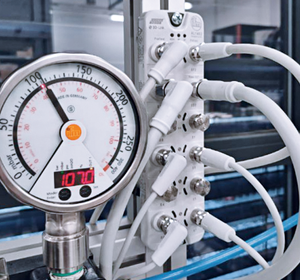 Powerful IO-Link master for the food industry
4- and 8-port IO-Link master with matching Power L-Code cables available in IP 69K
Daisy-chain power with standardized L-coded M12 connection technology, max. 2 x 16 A
For actuators up to 2 A
Current measurement and adjustable current limiting per port
Master and device configurable with the moneo configure software

Robust fieldbus modules with secure connection
The decentralized IO-Link masters serve as a gateway between intelligent IO-Link sensors and the fieldbus. They are the best choice even in the most difficult environments: The materials and production processes are identical to those of the ifm interconnectors of the proven EVF product range. The ecolink technology guarantees reliable, permanently tight M12 connections of the connection cables.
L-coded cables for high currents
Controlling loads with IO-Link master modules requires more energy than controlling simple sensors. A suitable power supply for such modules is the M12 power connector with L-coding, which is becoming increasingly established on the market. This allows high currents to be transmitted with a low voltage drop. ifm offers connection and connection cables tailored to this.
Advantages and customer benefits
• L-coding for the food sector
For the first time, ifm offers high-current IO-Link masters with special housing materials and a high degree of protection for the food sector.
• 16 amps on an M12 connector
The IO-Link master is powered by the standardized L-coded M12 connector.
This connection technology with 5 x 2.5 mm² can be used for 16A US (sensor supply) and 16A UA (actuator supply). The energy can be ranked through the master (daisy chain).
• Connection of 2A actuators with high power consumption
The pin2 of a B port can optionally be set to a digital output mode. Thus, large solenoid valves and actuators with up to 2A can be switched. This is supplied from the actuator voltage UA.
• Energy monitoring
For each individual port there is a current limit that can be set from the PLC. Furthermore, voltage and current values can be measured from each port. Thus, the energy demand of a plant can be easily determined and transmitted to ERP systems for analysis.
• Configure sensors with moneo configure SA
The intuitive software finds all IO-Link masters in the network and creates an overview of the entire system. In addition, all connected sensors are displayed with the respective parameters. This makes it possible to parameterize all sensors in the system from a central location.
Follow ifm online:
Watch>>>Close to you
After many years of intensive cooperation with our customers we have established ourselves in the market as service-oriented sensor specialists and today we are represented by more than 7,000 employees in over 85 countries worldwide. Even though we have grown into a big company we have still maintained the virtues of the founding years: The flexibility and individuality of a small enterprise and the quality and professionalism of a group. And our customers are still today in the centre of our work - close to you.
ifm
ifm develops, produces and sells sensors, controllers, software and systems for industrial automation and digitalization