Powerful obstacle recognition
Featured Product from ifm electronic gmbh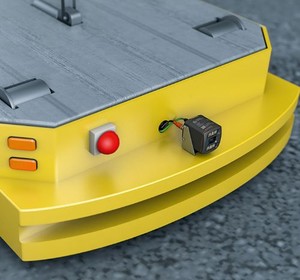 Collision protection for automated guided vehicle systems
3D camera also detects obstacles above the detection zone of conventional safety laser scanners
The system optimises the collision warning based on speed and steering angle
Safe detection even in case of difficult obstacles
Three-dimensional detection in driving direction: 60° x 40°
Unaffected by ambient light
Powerful obstacle recognition
Collisions of automated guided vehicles in indoor areas with protruding or suspended objects and other obstacles must be avoided under all circumstances. For this purpose, ifm offers the ODS (Obstacles Detection System) collision protection system, which consists of a PMD 3D camera and intelligent integrated software. Supplementing the mandatory safety laser scanner, it monitors the manoeuvring range in three dimensions and can even detect obstacles positioned higher up, such as forklift arms, high-speed doors or crane hooks.
Intelligent prediction
The unit features three collision warning levels. Both the speed and the steering angle are taken into account. This prevents unnecessary braking and provides optimum protection during all vehicle manoeuvres.
Follow ifm online:
Watch>>>Close to you
After many years of intensive cooperation with our customers we have established ourselves in the market as service-oriented sensor specialists and today we are represented by more than 7,000 employees in over 85 countries worldwide. Even though we have grown into a big company we have still maintained the virtues of the founding years: The flexibility and individuality of a small enterprise and the quality and professionalism of a group. And our customers are still today in the centre of our work - close to you.
ifm
ifm develops, produces and sells sensors, controllers, software and systems for industrial automation and digitalization