Precise compressed air measurement
Featured Product from ifm electronic gmbh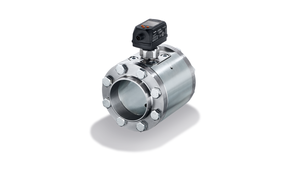 Precise compressed air measurement from its generation to the consumer
Exact allocation of energy costs due to precise consumption measurement
Improvement of energy efficiency via leakage monitoring
The basis for an energy management system according to EMAS or DIN EN ISO 50001
Pressure monitoring thanks to the integrated pressure sensor
Different process values being indicated simultaneously removes the need for multiple instruments
"All-in-one sensor" reduces costs
The SDG compressed air meter is a real all-rounder. Thanks to the additionally integrated sensors for pressure and temperature, the user can see four process values (flow rate, pressure, temperature and total consumption) at a glance, which provide information about the energy efficiency of his system.
Offering a wide portfolio of precise inline sensors from DN8 to DN250, ifm covers the complete range of applications.
Energy monitoring at a glance
The process values can be effectively monitored at all times via the integrated TFT display, which allows for selection between four individually adjustable graphic layouts with flexible orientation. What is more, all process values can be transmitted quickly and easily via IO-Link.
Improvement of energy efficiency due to the integrated leakage monitoring in the installation
The precise flow monitoring allows for leakage detection and energy cost savings. In addition, the unit's high repeatability enables exact allocation of the costs of compressed air to the respective production line as well as optimised product cost calculation.
Due to the integrated pressure measurement our compressed air sensors offer the possibility to monitor the general operating pressure of the compressed air system. By creating a pressure difference from generator to consumer, the pressure drop of the pipe system can also be monitored and optimised. But also a falling pressure, for example caused by dirty filter systems, is continuously detected.
The basis for a consistent energy management system according to EMAS or DIN EN ISO 50001
Following EU directives on energy efficiency, all member states have undertaken to achieve energy savings. The requirement for obtaining energy tax reductions is the implementation of an energy management system.
Combining the new compressed air meter with regular calibrations provides the optimum basis for this.
Follow ifm online:
Watch>>>Close to you
After many years of intensive cooperation with our customers we have established ourselves in the market as service-oriented sensor specialists and today we are represented by more than 7,000 employees in over 85 countries worldwide. Even though we have grown into a big company we have still maintained the virtues of the founding years: The flexibility and individuality of a small enterprise and the quality and professionalism of a group. And our customers are still today in the centre of our work - close to you.
ifm
ifm develops, produces and sells sensors, controllers, software and systems for industrial automation and digitalization