Prevent your process valve from failing
Featured Product from ifm electronic gmbh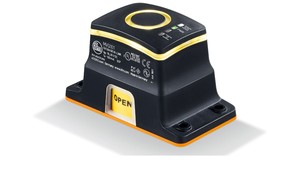 What if you could prevent your process valve from failing?
ifm's innovative MVQ Smart Valve Sensor provides preventive maintenance diagnostics while continuously monitoring the position of quarter-turn valves.
The sensor features built-in functions that can identify different wear conditions via IO-Link, ifm's digital communication interface. The sensor can indicate a change in the valve's operation, which can be a warning that deposits are interfering with the valve's ability to close or that the seal is wearing.
MVQ Smart Valve Sensor provides continuous valve position feedback and predictive information alerting to early signals of industrial valve failures.
Valve open / valve closed indication is visible from a distance
Easy set up via teach button or IO-Link, ifm's digital communication interface
Diagnostic functions via IO-Link allows the sensor to identify different wear conditions.
Watch>>>"close to you!" - is not only our claim - it is our formula for success
ifm
Measuring, controlling and evaluating - When it comes to pioneering automation and digitalisation technology, the ifm group is the ideal partner. Since the foundation in 1969 ifm has developed, produced and sold sensors, controllers, software and systems for industrial automation and digitalisation worldwide. Today the ifm group family-run in the second generation with more than 7,000 employees in 70 countries is one of the worldwide industry leaders. ifm combines the internationality and innovative strength of a growing group of companies with the flexibility and close customer contact of a medium-sized company.
ifm – close to you!
At ifm, the key to success has always been people. A sales and service team of more than 1,650 people - which is above average - supports customers worldwide. The experts on site know the regional conditions and ensure individual and trusting support. More than 1,000 people in research and development work in close partnership with the customer as well as research institutions and universities to find solutions for the requirements of tomorrow. More than 880 patents and about 100 new patent registrations in 2018 are the result of this commitment.
A huge variety of products
ifm's exceptionally large product portfolio does not only cover all relevant standard solutions but also the special requirements of individual industries. In addition to position and process sensors, sensors for motion control and safety technology are part of the product range. Furthermore ifm offers products for industrial imaging and communication as well as identification systems and systems for mobile machines.
 
Besides, ifm has been developing more and more innovative Industry 4.0 solutions and equivalent software and cloud products.