Smart tracking solutions address the 6 Big Losses
Featured Product from ifm electronic gmbh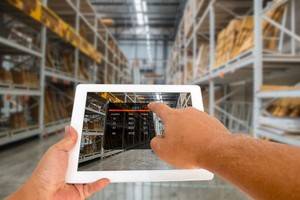 Smart tracking solutions address the Six Big Losses
ifm TTQ (Track, Trace, and Quality) solutions target the Six Big Losses on efficiency. Whether you are looking to improve availability scores with returnable asset tracking, or to improve quality with automatic machine set up and RFID enabled smart tooling, it is important to understand how specific solutions impact production efficiencies.
What if everything you produced was of the highest quality?
What if every shipment that left your facility was 100% accurate, every time?
What if you always knew the location of every tool or raw material?
What if you could quickly raise operating efficiency by implementing a tracking solution?
Raw materials management
Tracking technologies applied to raw material storage and retrieval ensure that production never stops, enabling:
Automatic and reliable raw material location tracking
Real-time accurate inventories and minimization of lot sizes
Autonomous tracking for fixed storage bays and unstructured environments
Returnable assets management
Tracking container assets within a facility increases availability for production while protecting a manufacturer from unexpected losses and fines by enabling:
Real time location tracking of assets within the facility
Validation of receipt and shipment of high value assets for production
Communication to many databases and software suites at once
Smart tooling
By applying serialized identifiers, tracking technology enables smart tooling capabilities within production processes and machinery, enabling:
Confirmation of the correct tool for the job at hand
Real time location tracking and maintenance data storage
Automatic configuration of machine parameters for the installed tool
Error proofing
Identification technology enables manufacturing processes to proactively prevent errors from occurring. Ensure every product is made to specification with zero mistakes by enabling:
Defect identification within production/assembly at the point of error
Real time tracking of a "batch of one" throughout production
Effective quarantine, accurate rework, and scrap rate tracking
Access control
Tracking technologies ensures the right people are at the right machine at the right time so critical assets are managed properly, enabling:
Varying levels of access to machine adjustments and process changes
Optimization of your workforce; the right person on the right machine
Enhanced security, and protection of machine assets in complex processes
WIP management
Tracking work-in-progress (WIP) gives real-time insight as to what is in production, giving the ability to create a digital twin of the production floor, enabling:
Effective, lean, and intelligent production
Real time optimization of production scheduling
Location tracking of WIP subassemblies and needed material inventories
Packaging and unitizing
Ensuring the correct packaging is used for your product is a critical control point for any robust quality control program. Adding unique identifiers on bulk packages or shipments enables:
Effective mixed-lot prevention measures in production/packaging
Reduction in lot sizes, limiting potential impact of a product recall/rework
Location tracking, shipment verification, and product sequencing of finished goods
Storage and retrieval
UHF RFID technology enables a low cost, highly effective inventory tracking and localization capabilities by enabling:
Real time tracking and inventory of finished goods into/out of storage bays
Localization of finished goods in unstructured environments with mobile automation
Location and destination prompt to personnel to reduce sourcing and shipment time
Sequencing and shipments
Serialization of shipping units unlocks the capability of ensuring that every order is complete and sequenced by enabling:
Sequencing verification for JIT (Just in Time) Manufacturing
Automatic shipment manifest and verification with timestamps
Reliable recording of all activated shipping units moved through portal control
Follow ifm online:
Watch>>>Close to you
After many years of intensive cooperation with our customers we have established ourselves in the market as service-oriented sensor specialists and today we are represented by more than 7,000 employees in over 85 countries worldwide. Even though we have grown into a big company we have still maintained the virtues of the founding years: The flexibility and individuality of a small enterprise and the quality and professionalism of a group. And our customers are still today in the centre of our work - close to you.
ifm
ifm develops, produces and sells sensors, controllers, software and systems for industrial automation and digitalization