The Advantages of an intelligent power supply
Featured Product from ifm electronic gmbh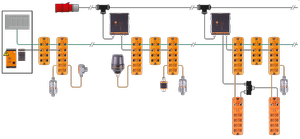 Power supply directly in the field
Even with your system, you no longer need a control cabinet to power it!
As the number of I/O and sensor components, controllers and HMIs that can be mounted in the field has surged in the last years, larger and larger parts of the overall controller architecture can be directly mounted on the machine. Until now however, the power supply equipment always needed to be safely placed in a central but often remotely located control cabinet. Disadvantage: The distribution of supply voltages as low as 24 V over large distances requires high currents in order to provide loads with the power they need. This leads to high losses and requires large conductor cross sections.
What are the advantages of the intelligent power supply?
Robust IP65/IP67 housing for installation without control cabinet
A robust IP65/IP67 housing ensures protection against electrical and mechanical hazards. Moreover, the integrated surge protection eliminates the need for external circuit protection.
Supply and output connectors in accordance with industry standards
The supply of sensors and actuators via a single cable enables a separately protected current distribution with less loss both for sensors (Us) as well as for actuators (Ua), or simply two supplies to be split by means of a T splitter.
Supply diagnostics and load display on the device
A 12-segment LED bar graph displays the current demand of the overall system as well as the current demand of each channel as a percentage of the protection configured for each single output circuit.
Configurable voltage and electronic circuit breakers for each supply channel
For every output circuit, the integrated output protection with pre-alarm and usage diagnostics can be configured in real time. The integrated circuit breakers protect your system against overload and short circuits and can each be separately configured between 1 and 12 amperes.
Allowance for the voltage drop
To ensure that sufficiently high voltages are provided where they are needed, the cable resistance can be taken into account when configuring the system. The operating voltage of the system can be set in the configuration menu to values between 24 and 28 V. Calculation of the voltage drop for any system installed is recommended.
Follow ifm online:
Watch>>>Close to you
After many years of intensive cooperation with our customers we have established ourselves in the market as service-oriented sensor specialists and today we are represented by more than 7,000 employees in over 85 countries worldwide. Even though we have grown into a big company we have still maintained the virtues of the founding years: The flexibility and individuality of a small enterprise and the quality and professionalism of a group. And our customers are still today in the centre of our work - close to you.
ifm
ifm develops, produces and sells sensors, controllers, software and systems for industrial automation and digitalization