IHS Goldfire Cloud
Product Announcement from IHS - Goldfire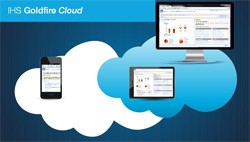 Anytime, anywhere access to all the information you need in order to accelerate decisions and power innovation.
Engineers and other technical professionals spend up to 40 percent of every day searching countless websites, online journals, patents, standards, social media sites and more for the information, insights and expertise they need in order to develop, maintain and produce breakthrough new products.
Hosted on the internet, IHS Goldfire Cloud gives product teams a single point-of-entry to the critical information they need in order to more rapidly make confident, informed decisions.
Accessible from any computer, tablet or smartphone, IHS Goldfire Cloud includes advanced research and knowledge discovery tools and access to the world's largest aggregated collection of authoritative technical and industry content.
With rapid and precise access to the knowledge you need, IHS Goldfire Cloud accelerates your ability to:
Leverage knowledge, expertise and best practices documented in trusted content such as patents and standards

Glean insights from consumer sentiment as expressed in social media
Understand the competitive landscape
Identify new markets and envision next-generation solutions
Minimize risk and boost operational efficiency
---