IHS Goldfire Connect
Product Announcement from IHS - Goldfire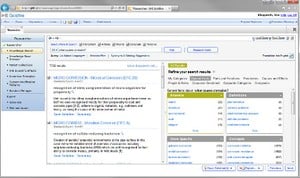 Engineers and other technical professionals spend a third or more of their time searching for the information, experts and insights they need in order to solve problems and develop solutions.IHS Goldfire®Connect, the platform for optimal product decisions, enables engineers, scientists and researchers to work faster and smarter by informing decision-making across the product lifecycle.
IHS Goldfire Connect integrates best-in-class search technologies and broad access to internal and external knowledge with collaboration capabilities to knowledge-enable decision-making - empowering companies to deliver market leading, competitively differentiated products in less time and at less cost.
On-Demand Access to Information, Experts and Insights
IHS Goldfire Connect, the collaborative research module of the Goldfire platform, uniquely supports an organization's daily research and collaboration activities by connecting product teams to the wealth of information that lies inside and outside their organization - and to experts, insights, and trends, on-demand.
IHS Goldfire Connect fuels the continuous improvement of products and processes, by helping product development teams:
Leverage internal knowledge and expertise
Access rich authoritative external information
Find new markets, partners and suppliers
Get on-demand competitive and technology trends and analysis
Collaborate to accelerate problem solving and idea generation
---