IHS Goldfire Innovator
Product Announcement from IHS - Goldfire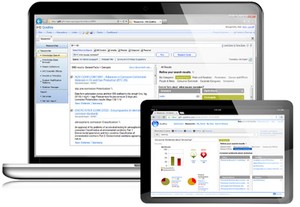 Today's organization must operate more efficiently than ever before - continually reducing costs, utilizing assets optimally, increasing revenue, and reducing risk. This requires informed decision-making. As the volume of information available to technical professionals continues to grow, companies must find a way to turn vast stores of information into actionable knowledge.
IHS Goldfire® Innovator provides a platform for retrieving relevant knowledge, solving problems and collaborating with others in order to make faster and more informed decisions.
Powered by world-class semantic technology, only IHS Goldfire Innovator delivers answers hidden within documents regardless of location, document format, or even language of authorship. Leveraging IHS Goldfire Innovator's best-in-class research technologies, engineers and other technical professionals can mine relevant insights held within a wealth of internal and external content sources to accelerate research, design and development.
Armed with relevant industry and technical knowledge, product teams are positioned to make better decisions across the product lifecycle, enabling companies to more rapidly and cost effectively deliver market-leading, competitively differentiated products.
---