2015 ASME BPVC ONLINE ACCESS - ASME BPVC ADVANTAGE
Featured Product from IHS Markit Engineering & Product Design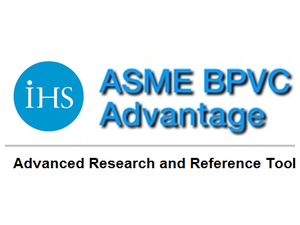 IHS, a leading global source of critical information and insight, announced the release of IHS ASME BPVC Advantage, an advanced version of the Boiler and Pressure Vessel Code. The Advantage version of the ASME (American Society of Mechanical Engineers) Code is available online allowing users to work more efficiently with sophisticated and easy-to-use research, reference and collaborative tools.
ASME is a not-for-profit professional organization for the mechanical and multidisciplinary engineering and allied sciences communities. "The Advantage version of the ASME Boiler and Pressure Vessel Code gives engineers the electronic capability to use and share the technical information they've been asking for," said Michael Merker, managing director, C&S Operations of ASME. "The collaboration tools alone will create significant efficiencies across any organization." Rapid access menus, innovative tracking and annotating features allow users to find, manage and share critical technical information from their desks or mobile devices. "We knew this was going to have a great impact on workflow improvement for our customers," said Tom Littman, senior vice president, IHS Technical Publishing. "The product was developed with their input, as we took the traditional version of the BPVC from a read-only reference material to a dynamic, interactive tool."
IHS ASME BPVC Advantage will help you transform your engineering organization from using hardcopy workflow requiring manual searching through the thousands of hardcopy pages and countless binders of the current 2015 BPV Code or earlier revisions to a management system allowing rapid online version comparisons. The Version Comparisons feature includes the exact text additions, deletions, changes, and modifications between Code versions or revisions. Each change is highlighted to help your engineers, inspectors and technical personnel save time. This improved workflow will ensure your team improves the quality of their work and reduces the risk of missing a critical code change.
Engineers, inspectors, technicians and maintenance personnel can quickly navigate to the parts of the Code they need through online access anytime and anywhere in the world. They can find cross references between sections of the code as well as other ASME standards. Important and frequently used portions of the Code can be bookmarked for easy retrieval anytime by anyone in your design, fabrication, and maintenance or inspection facilities.
ASME BPVC is the must-have safety code for pressure integrity for inspectors, engineers and stamp holders. Only IHS can provide hardcopy, online searchable PDF, interactive HTML and behind-the-firewall integrated access to the Boiler and Pressure Vessel Code.
The web-based IHS ASME BPVC Advantage allows BPVC Code users to share, search and manage over 18,000 pages in 30 volumes of the code.
Increase productivity by reducing research time
Powerful online search to easily locate the information you need
Share knowledge of the code with others
Stay up-to-date regarding revisions in the code
Quickly understand changes to code sections
Use links to jump instantly to referenced sections
Worldwide access to the BPVC
Copyright adherence
Historical reference back to 1958
View a Flash Demo About the Benefits of the IHS ASME BPVC Advantage Solution
Visit IHS ASME BPVC online store – 2015 Rules for safety, design, manufacture and maintenance of boiler and pressure vessels from ASME.

More Information on the 2015 ASME BPVC Boiler and Pressure Vessel Code