Code Shops! Order Your 2015 ASME BPVC Today!
Featured Product from IHS Markit Engineering & Product Design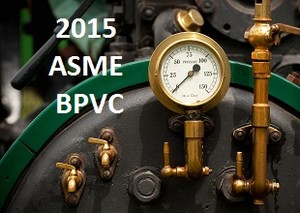 The 2015 ASME BPV code is a critical asset during the design, build and maintenance of safe and reliable boilers and pressure vessels. The 2015 ASME Boiler and Pressure Vessel Code (BPVC) provides rules for safety, design, manufacture and maintenance of boiler and pressure vessels, power producing machines (and associated subsystems), and nuclear power plant components with the objective to provide a margin for deterioration in service. ASME BPVC is adopted (partially or entirely) by all 50 states and numerous municipalities and territories of the United States and all Canadian provinces and is often built into national regulation in other countries around the globe.

Boiler and pressure vessel manufacturers, operators, stamp holders and inspectors rely on the ASME BPVC to help:
- Improve product durability
- Improve safe operations
- Minimize risk of system failures
Several of the sections within the 2015 ASME BPVC concern safety valves used during boiler and pressures vessel construction such as pressure regulating valves and pressure relief valves. For example, the ASME UV Stamp Div 1 or Pressure Vessels Safety Valves (Certification Designator UV (BPVC Section VIII Division 1) package provides the BPV code sections required for assemblers and manufacturers.

Visit IHS ASME BPVC online store to access the latest boiler, pressure vessel, process piping and power piping standards and technical documents as well as welding, NDE and inspection codes for nuclear and non-nuclear applications. Standards and codes are available from ASME, NBIC, BSI, and API…
2015 ASME BOILER AND PRESSURE VESSEL CODE!

The 2015 BPVC is now in stock and shipping. Order your codes today.
Need older codes? IHS had the most complete collection of historical versions.


---

Get Online Access to your ASME Boiler & Pressure Vessel Code with ASME BPVC Advantage!
ASME Advantage is the most advanced online system available for finding, managing, and sharing ASME Boiler and Pressure Vessel information.

---

Power & Process Piping
2014 editions of ASME B31.1 : Power Piping and ASME B31.3 : Process Piping are available.

The B31.1 Code prescribes minimum requirements for the design, materials, fabrication, erection, test, inspection, operation, and maintenance of piping systems typically found in electric power generating stations, industrial institutional plants, geothermal heating systems, and central and district heating and cooling systems.

The B31.3 International Piping Code contains requirements for piping typically found in petroleum refineries; chemical, pharmaceutical, textile, paper, semiconductor, and cryogenic plants; and related processing plants and terminals. This code prescribes requirements for materials and components, design, fabrication, assembly, erection, examination, inspection, and testing of piping.

---

National Board Inspection Code (NBIC)
IHS is the source for the NBIC. The National Board Inspection Code (NBIC) was first published in 1946 as a guide for chief inspectors. It is an internationally recognized standard, adopted by most US and Canadian jurisdictions.

---

BS PD 5500 : Specification for Unfired Fusion Welded Pressure Vessels
BSI's Specification for Unfired Fusion Welded Pressure Vessels specifies requirements for the design, manufacture, inspection, testing and verification of compliance for unfired fusion welded pressure vessels manufactured from carbon, ferritic alloy and austenitic steels, aluminum, copper and nickel used in a wide range of process and energy industry applications.
Buy Your BS PD 5500 Today!

Also available from IHS:
BS EN 13445 Series: Unfired Pressure Vessels

---

Top Boiler and Pressure Vessel Standards from API!

- API 510 : Pressure Vessel Inspection Code: In-Service Inspection, Rating, Repair, and Alteration

- API 570 : Piping Inspection Code: In-Service Inspection, Rating, Repair, and Alteration of Piping Systems

- API RP 571 : Damage Mechanisms Affecting Fixed Equipment in the Refining Industry

- API RP 572 : Inspection Practices for Pressure Vessels

- API RP 573 : Inspection of Fired Boilers and Heaters

- API RP 574 : Inspection Practices for Piping System Components
IHS Has the Best Price!
Save 6% off publisher's price on hardcopy purchases.
Save 15% when you buy a set.
If you find a lower price from any authorized distributor, IHS will beat it

IHS Has the Best Value!
Print: Free binder with each section ordered (a $20 value)
Online Access: Access the BPVC anywhere and anytime in PDF or HTML - single user to enterprise-wide. (Learn More)
Bundle and Save: Save up to 50% when you bundle Print and Online
Order Today!
Order Online Below
Contact your Sales Office
(Code ships August 2015)