IHS Standards Expert - The Online Standards Source
Featured Product from IHS Markit Engineering & Product Design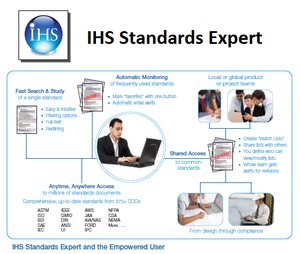 The Online Standards Solution, or IHS Standards Expert™, provides those users who need company-wide access to more than just a few standards. Search and manage standards from over 370 standards developing organizations (SDOs) with full-text searching, advanced filters, personal watch lists, referenced standards links and more.

Choose from over 1,000 standards sets. Choose complete sets of publishers' content or choose one of our targeted, industry-specific collections created by our team of content experts. When you subscribe to any of our standards sets, not only do you get access to the industry's most comprehensive and up-to-date standards content, you get all the power management tools in our IHS Standards Expert Arsenal:
Full-text searching
Advanced Filters
Personal watch lists
Referenced standards links
Finger tip access to purchase individual standards outside your collections
Worldwide access via the Internet

What is an Online Standards Solution?
The IHS Online Standards Solution is our answer for all your standards needs. Geared toward those users who need company-wide access to more than just a few standards, our Online Standards Solution model let's you select full sets of publishers' content or popular industry-specific compilations created by our content experts. Our industry-leading, online standards management platform, IHS Standards Expert™ , gives you, your team, or your entire organization easy-to-use online access to our immense database of standards content.
Does Your Design Team Need to Mitigate Risk, Assure Quality and Develop High Performance Products Faster?
Every day thousands of companies worldwide mitigate risk and gain competitive advantage by giving their employees access to IHS Standards Expert™, the industry-leading standards management solution backed by the world's largest collection of engineering standards and related documents.
IHS Standards Expert simplifies and expedites the process for finding and managing standards. Whether you need a single collection of standards, documents from multiple standards development organizations (SDOs), or any combination in between, IHS Standards Expert is a powerful, yet easy-to-use standards management solution with the flexibility to meet your needs.

For more info: IHS Standards Expert Whitepaper – The Case for Standards Management Cutting Costs, Reducing Risk and Improving Work Processes

Benefits of using IHS Standards Expert include:
Reduce risks associated with noncompliance, including loss of sales and market share
Improve time to market through higher productivity and better collaboration
Guarantee quality by leveraging consistent standards to meet customer and market requirements
Eliminate "hidden" costs of poor standards management such as the risk of using outdated standards or copyright abuse
Ensure adoption across your user base with a user-friendly, online tool, backed by world-class customer support and service
Increase procurement efficiencies, with one relationship, one negotiation and one transaction for all your standards management needs
Single source for standards and regulations across your organization – with one relationship, one negotiation and one transaction
Legal, regulatory, environment and safety compliance with worldwide desktop access to the documents you need, when you need them
The world's most comprehensive collection – hundreds of sources, millions of documents, deep historic content
Powerful management tools, automatic updating, email alerts and much more
Search New and Revised Standards
What Capabilities does Standards Expert™ Provide?
Robust Searching: 24/7 global access, intuitive search, filtering options, and full-text search.
Personalized Data: Create favorites, save searches, set custom lists.
Automatic Monitoring: Set alerts and remain up-to-date on changes to the standards that matter most to you.
Document Management: Link to related documents and integrate internal documents.
Project Management: Collaborate and share access to common standards with geographically dispersed teams.
Multi-language Interface and Search: Now available in Chinese (Mandarin or Simplified), English, French, German, Italian, Japanese, Korean, Portuguese (Latin American), Russian, Spanish (European or Latin American).
Comprehensive Content: The total available data set in IHS Standards Expert represents 1.6 million documents from more than 370 standards developing organizations (SDOs), including international, regional, national, local and corporate sources, plus key government and military agencies. Continuous updates ensure you have access to the most current versions of critical standards, alongside extensive historical content.
Up-to-Date Information: IHS updates standards hourly, preventing the chance that engineers are using outdated standards data. Your products achieve the quality and compliance that your customers demand.
The IHS Standards Expert Gatekeeper System: Gatekeeper allows your company to purchase documents that are outside of your subscription, while assisting in controlling costs against your company's individual document purchasing budget.
Flexible Delivery Options: Delivery of IHS Standards Expert can be customized to meet your individual or organization's specific document access needs locally or globally, delivered via Internet, extranet, intranet, DVD, Web Services, XML, or PDF.

When Should You Purchase Standards Expert?

Today, if…
1.) If you use many different standards across your organization
2.) If you purchase more than $3,000 in standards per year
3.) If you need to manage standards access or budget across your organization

How Do I Get Started?
Click Online Standards Solution and fill out the short form, call 1-877-413-5184 or email our sales manager at bill.hughes@ihs.com
Need More Information?
IHS Standards Webseminar Recording
IHS Standards Expert Demo
IHS Standards Expert Brochure