Product Design Collaboration on the Yoostar System
Service Detail from IMET Corporation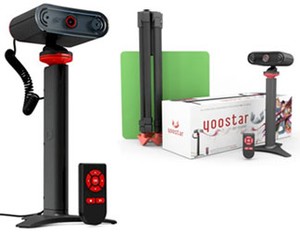 IMET Corporation's Product Design Collaboration on the Yoostar™ System Gives Consumers a New Way to Enjoy Movies.

When Tom Krol attended a New York tradeshow last summer and exchanged information with his booth neighbor he had no expectations it would lead to anything significant for his product development firm, IMET Corporation. But just a few weeks later, the President received a call from his new contact with a huge lead. The vendor had been in touch with a company looking for mechanical and electrical support for a unique new product idea, and he thought of IMET for the job. "Once I got the referral I immediately made the call," says Krol, "and the next morning I was on a train to NYC to have a meeting with Yoostar Entertainment Group."
He learned that Yoostar was developing an interactive system which would allow users to insert themselves directly into movie scenes using green screen technology. "It's 'movie-oke,'" Tom explains. "So you can 'star' in a famous scene by recording the part to replace or play alongside your favorite character. I knew this product could completely change the face of home entertainment and I wanted IMET to be a part of it." While Yoostar had the software designed, they needed to ensure the camera system would be mechanically and electronically viable. With IMET's total-solution style to product development and prototyping abilities both in-house and overseas, it was quickly determined they would be a good fit to take Yoostar's idea from concept to production.

Krol immediately assembled a team to handle the modeling of mechanicals and design of all electronics. Because the system had to include a studio-grade webcam as well as a dual microphone for echo cancellation, one of the toughest aspects proved to be the electrical spacing within the camera's housing unit. IMET and electrical engineer Kurt Goszyk came up with a 2-board solution, utilizing printed circuit boards set horizontally and vertically inside the mechanical housing. A third board was designed for use in a wireless remote control, which included an RF transmitter to interact with the camera unit.
By December of 2008, initial working prototypes were being assembled by IMET to have ready to showcase at the 2009 Consumer Electronics Show the following month. "I clearly remember putting together prototypes on Christmas Eve," said Tom. Despite the tight deadlines, the CES proved to be a huge success for Yoostar, with CEA president Gary Shapiro previewing the system and claiming "Yoostar™ epitomizes what CES is about- innovation, content, technology and enhancing life."
Work ramped up immediately following the show as consumer excitement and press attention grew. While IMET worked to ensure Yoostar's software was Windows-Qualified for compatibility with home computer operating systems, Krol sent team member Brian Dougherty to China to source manufacturers and act as vendor liaison during the final prototyping and production stages. Multiple tools were created in China and evaluated by IMET for final production while color schemes and finishes were finalized to enhance the unit's innovative design.
The Yoostar™ system premiered exclusively in Bloomingdale's stores nationwide on August 26th, 2009. With viral marketing already creating much hype and a presence now in Best Buy stores, it is positioning to be the must-have entertainment system of the holiday season. "It's a whole new way to enjoy movies that's immersive, social and a lot fun," says Krol. "We're proud to be a part of such a revolutionary product and look forward to continuing our work with Yoostar through product and manufacturing support."
Getting It Right the First Time
IMET Corporation's "get it right the first time" approach to product development ensures that complete solutions for your design, engineering, prototyping and manufacturing needs are delivered right the first time and on time. With extensive staff capabilities and solid strategic alliances, we can assemble the right team of specialists to fit your specific needs. Whether you're looking for full-service turnkey development or an outside resource to fill in certain gaps, IMET will provide the management and industry expertise to streamline the process for high quality results that positively impact your bottom line.
Full Service Product Development
IMET Corporation offers clients comprehensive product development solutions that bring concepts to full term. Our unique blend of services allows you to utilize IMET as a single point of contact for all aspects ranging from industrial design to manufacturing. We leverage the skills of our staff specialists to develop aesthetic, functional and cost-effective design solutions that are both innovative and marketable.
From new concepts to redesign, IMET is committed to providing turnkey services through a proven process tailored to the requirements of your business goals.
Quick Turn Prototyping & Manufacturing
IMET Corporation also has the ability to handle projects at any point in their development stage including prototyping or small and large scale manufacturing. We provide these services in-house, offering you quick turnaround and flexibility in volumes. We can assemble printed circuit boards and cables or execute box builds in any quantity- even one or two if that is your requirement. IMET's assembly service is separate from engineering, so we welcome quotes for assembly services only.
IMET Corporation strives to "get it right the first time," saving our clients the expense and headaches of poorly organized and executed projects. We focus our resources on providing full and complete product solutions in a streamlined, timely fashion. With IMET managing your product's development, you'll receive professional support, innovative designs and a high-quality final product, along with the full package of native files used to create your design.
---