Alternative Solvent for Degreasing Concrete
Product Announcement from INVISTA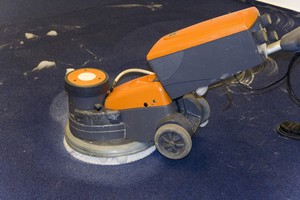 FlexiSolv® 1120C microemulsion concentrate offers the formulator of concrete degreasing products an excellent alternative to conventional hydrocarbon solvents.
FlexiSolv®microemulsions deliver the advantage of both aqueous and organic systems. Aqueous formulations deliver the cleaning power of an organic solvent, while the water dilutability allows for easy rinsing.
With the ease of handling, product properties and near-neutral pH, FlexiSolv® microemulsions are an excellent alternative to many conventional solvents.
FlexiSolv® microemulsions are non-flammable and not considered VOCs*. They also offer a variety of other desirable regulatory, safety and environmental attributes.
Click here for User Guide
*Not considered VOCs (EU Solvent Emissions Directive 1999/13/EC, US VOC Exemption for consumer products EPA 40 CFR 59.203(f)(1), Environment Canada's "Guidelines For Volatile Organic Compounds In Consumer Products", Nov. 2002, Section 94508(a)(80) of Title 17 of the California Code of Regulations.
---