FlexiSolv® products as alternative to MeCl2
Product Announcement from INVISTA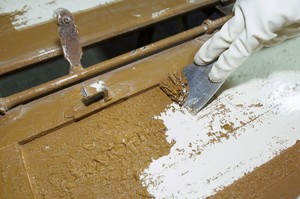 If you're a formulator looking for an alternative to methylene chloride, INVISTA's FlexiSolv® DBE® esters and microemulsions may be the solution to your graffiti and paint stripping needs.
Solvent based formulations:
DBE® esters, a type of dibasic esters, are refined dimethyl esters of adipic, glutaric and succinic acids. Used alone or in blends with other solvents, DBE® esters perform as effective paint strippers and graffiti removers. The esters are readily soluble in alcohols, ketones, ethers and many hydrocarbons-but they are only slightly soluble in water and higher paraffins.
Water based formulations:
FLEXISOLV® microemulsions deliver the advantage of both aqueous and organic systems. Aqueous formulations deliver the cleaning power of an organic solvent, while the water dilutability allows for easy rinsing, making them desirable as paint strippers and graffiti/ink removers. Because of their flexibility, they provide an excellent solution for formulators who are looking to reduce the time and cost of getting their products to market.
Desirable Environmental Attributes
Both FLEXISOLV® microemulsions and DBE® esters are non-flammable and not considered VOCs*. They also offer a variety of other desirable regulatory, safety and environmental attributes.
*Not considered VOCs (EU Solvent Emissions Directive 1999/13/EC.
---