FlexiSolv® Microemulsions
Product Announcement from INVISTA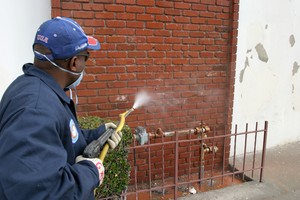 FlexiSolv® solvent solutions are designed to offer an optimum balance of performance, affordability and health and environmental benefits to the formulator and end-user in a rapidly changing regulatory environment. These products (patents pending) are effective alternatives to many conventional solvents.
The FlexiSolv® microemulsions are a line of semi-formulated products ideal for aqueous cleaning applications. They are compatible with a wide variety of other solvents and additives and can be used "as-is" by the end user or by the formulator as the core in a fully-formulated product. FlexiSolvTM microemulsions let you do more with less because some of the solvent in a formulation can be replaced with water. Because of their flexibility, they provide an excellent solution for formulators who are looking to reduce the time and cost of getting their products to market.
Performance
The microemulsion series encompasses a range of products with differing functionalities designed to meet the diverse needs of the global cleaning market.
Microemulsions are clear, thermodynamically stable, single phase solutions of two or more immiscible liquids which offer the user strong solvency power in a water-dilutable, water rinseable system.
FlexiSolv® microemulsions deliver the advantage of both aqueous and organic systems. Aqueous formulations deliver the cleaning power of an organic solvent, while the water dilutability allows for easy rinsing.
With the ease of handling, product properties and near-neutral pH, FlexiSolv® microemulsions are an excellent alternative to many conventional solvents.
Environmental, Health & Safety
The ingredients in the FlexiSolv® microemulsion formulations were chosen not only for their effectiveness, but also for their environmental, safety and health attributes. In a market facing increasing attention and regulations around ingredient chemicals, INVISTA's FlexiSolv® microemulsions offer an attractive alternative to many conventional solvents.
All the ingredients in our microemulsions are:
Biodegradable1
Not considered VOCs (EU, US, CAN, CALIF)2
Non-flammable3
Not listed as a carcinogen4
Not a Hazardous Air Pollutant (U.S. Clean Air Act)
Not listed as an ozone depleting substance5
Listed on most international chemical in
REACH pre-registered by INVISTA
Cost Benefits
FlexiSolv® microemulsions are available both as an aqueous solution and a concentrate. Sourcing the concentrated form not only offers the advantage of extending shelf life, but also can provide savings on logistic and storage costs. Water can be added (demineralised water is recommended) by the formulator or end-user with the need of only mild agitation, resulting in a stable microemulsion. Other benefits can include:
Reduced final formulation costs
Faster product development
Slower evaporation - Deeper cleaning
Reduced freight costs
Applications:
FlexiSolv® microemulsions offer effective and flexible products for the formulator to work with. They are suitable for multiple applications, such as:
Pulp and Paper (press felt cleaning, de-inking)
LCD/PCB process cleaning
Degreasing/Tar Removal (parts and equipment, automotive, concrete)
Adhesive Remover
Ink Remover
Graffiti Removal
Paint Stripper
Floor Cleaner/Wax Remover
Footnotes:
1. According to OECD definition, using empirical data, and results from EPI Suite™ modeling software.
2. EU Solvent Emissions Directive 1999/13/EC, US VOC Exemption for consumer products EPA 40 CFR 59.203(f)(1),
Environment Canada's "Guidelines For Volatile Organic Compounds In Consumer Products", Nov. 2002, Section 94508(a)(80)
of Title 17 of the California Code of Regulations.
3. According to Chapter 2.6 of the Globally Harmonized System of Classification and Labeling of Chemicals (GHS)
4. According to NTP, IARC, ACGIH, EU-Dangerous Substances Directive (67/548/EEC)- Annex I, and California Proposition 65
5. Reference: UNEP – The Montreal Protocol on Substances That Deplete the Ozone Layer
6. When stored in the original container, kept tightly closed and dry, in a well ventilated location.
7. VOC content determined by first measuring volatile content according to ASTM D2369, then adjusting for water content
according to EPA Method 24 equation 24-4.
---