Technical Glass Components
Service Detail from IRD Glass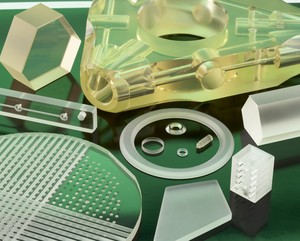 IRD Glass manufactures many different sizes and shapes of technical glass and optical components using many varied and unique grinding techniques to hold precise dimensional tolerances and surface finish requirements.
They make many different size tubes and pedestals for the pressure transducer sensor industry as well as other industrial applications. The pedestals are precision ground on CNC Lathes, with the ends lapped and polished to better than .000004" flat on the ends. The tubes, produced in volumes approaching ½ million per year, are controlled to tight length tolerances, polished on the ends to better than 4 µinch flat, fire polished on one or both ends, while maintaining a very tight scratch and dig tolerance. They also manufacture precision polished and ground glass rods, used primarily as tooling, spacers or masks in precision applications.
IRD Glass specializes in custom designed polishing tools using optical grade glass in sizes ranging form 20" wedges to ¼" flats. Several companies purchase custom diffusing and transmissive inspection stages from IRD, including stages with grooves and through holes for vacuum applications. Ultra-precision spacers made from ultra-low expansion materials such as Schott Zerodur, ULE and ceramics and other glass and ceramic tooling components are manufactured on a variety of equipment. Quality is maintained throughout using a series of in-process control inspections.
IRD Glass makes precision substrates with a variety of surface finishes ranging from rough ground (20 µinch Ra) to lapped (4-8 µinch Ra) to polished (sub 1 µinch Ra). Substrates are available from many different materials, from sapphire to Zerodur, silicon carbide to Borofloat.
Please reference the IRD Glass website for other typical and best tolerances for some standard operations.
For additional information please visit our website at http://www.irdglass.com or call us at (320) 693-7217
---