Add Ultrasound Versatility to CBM Procedures
Featured Product from IRISS, Inc.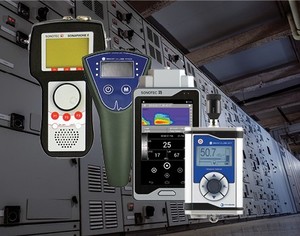 PROACTIVE and SAFE inspections of energized equipment are achievable goals using IRISS's Electrical Maintenance Safety Devices and handheld units. The IRISS breadth and depth of ultrasound products enables facilities to perform Airborne Ultrasound, Structure Borne Ultrasound and Transient Earth Voltage (TEV) detection for any facility size or sophistication level of maintenance program encountered.
The handheld Sonus PD, designed for utility clients and large industrial facilities that operate medium/high voltage switchgear, detects partial discharge for airborne ultrasound and TEV detection. The compact Sonus XT, designed for industrial customers, is used for leak detection, steam traps and electrical partial discharge. The Sonus XT is an excellent ultrasound testing device for any facility's mechanical or electrical maintenance program.
Partnering with Sonotec US Inc., IRISS is the master distributor for Sonotec branded equipment in the Americas. The new Sonaphone III, featuring a touchscreen interface with spectrogram display, offers adjustable frequency detection from 20 – 100 kHz to hone in on problem areas. The Sonaphone III is recommended for expert ultrasound technicians who would appreciate the adjustable frequency tuning and on-screen display. The ATEX rated Sonaphone E is ideal for clients whose facilities have restricted access, hazardous locations and potential risk of explosions. It has a frequency range from 20 – 60kHz and is suitable for pipeline operators, petrochemical refineries and offshore platforms.
Designed by IRISS, the Sonus Vue App and the Sonus Vue Pro Desktop software is now available. The App is a complimentary download for either iPhone or Android users and is a real-time frequency spectrum analyzer that enables the technician to record and playback the recordings on a time domain and/or a frequency domain. The Sonus Vue Pro Desktop Software package, married to any IRISS handheld ultrasound product, helps personnel visualize and pinpoint equipment problems by breaking down the captured waveforms in the time and frequency domains. The technician can perform basic or advanced inspections using FFT, Time Series, Surface and Spectrogram analyses to visualize harmonic indications to determine fault conditions.
Watch a video on the Sonaphone III below. Click here to view a video on the Sonaphone E.