New Oval Leak Free No Dig Culvert Lining Systems
Product Announcement from ISCO/Snap-Tite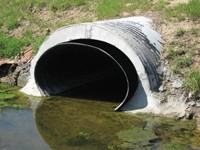 ISCO/Snap-Tite, the industry thought leader and designer of the most efficient and cost effective culvert relining sytems, now offers oval HDPE pipe liners as an option for cases where the existing culvert has been designed using this configuration. Our studies have shown that roughly one third of all existing culverts are arched.
Culvert rehabilitation and drainage solutions utilizing the Snap-Tite Culvert Lining System are an intelligent, cost-effective solution to this need. Snap-Tite rehabilitates a failing culvert lining system without the need to remove the existing deteriorated pipe. Since installation does not require any digging, there is no interruption to normal vehicle traffic flow.
Snap-Tite oval pipe has the same benefits as smooth-wall HDPE Snap-Tite, yet makes a better fit into an existing arched culvert.
The Snap-Tite Culvert Lining System actually outperforms both the round and oval concrete and corrugated metal pipes it rehabilitates. Lightweight, flexible, durable HDPE has an indefinite service life and the Snap-Tite culvert lining joining system assures a water-tight seal at all joints.
Contact us today for the hands down best solution for your culvert relining needs!
---