No Need to Dig & Replace with Snap-Tite®
Product Announcement from ISCO/Snap-Tite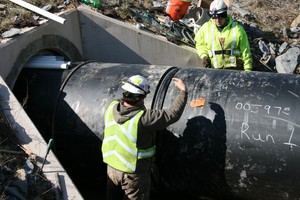 Snap-Tite® is a no-dig solution for deteriorating or failing culverts, offering an economically feasible and quick install option that avoids road and track closures and upholds structural integrity.
The nation's infrastructure is at risk – as drainage culverts under roadways, railroad beds, floodwalls and levees installed forty to fifty years ago are deteriorating and failing at an alarming rate. Thousands of corrugated metal culverts are so rusted that a danger of sink holes, collapse or flooding exists. Snap-Tite® is the solution.
The Snap-Tite® high-density polyethylene pipe (HDPE) culvert lining system is a safe and permanent solution for repairing failing culverts. Made of solid wall HDPE, a Snap-Tite® system actually outperforms the pipe it replaces. Once installed, it is a leak-free system.
Snap-Tite's® patented male/female machining at each end of the HDPE allows the pipe ends to be 'snapped' together, piece-by-piece, and pushed into the full length of the existing pipe. The installation is both fast and easy.
Snap-Tite® is ideal for interstates, expressways, highways and roads; levees and floodwalls; and railroad beds and structures. Also, the Snap-Tite® pipe is available in lengths from two feet to 50 feet long, and is available for culverts with diameters from eight inches to 84 inches.
Additional benefits of Snap-Tite® include:
· Meets AASHTO Standard M326 for rehabilitating culverts.
· Flexibility to insert into misaligned concrete or rusted partially collapsed corrugated metal pipe.
· Tough, but thin sidewall to give the highest flows possible after lining.
· The Snap-Tite® joint makes a solid mechanical connection that can be pushed or pulled.
For more information on Snap-Tite®, call 1-800-CULVERT or visit www.culvert-rehab.com.
---