Snap-Tite® Hydro-Bell Culvert Inlet Device
Product Announcement from ISCO/Snap-Tite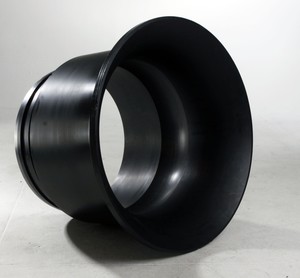 Ideal for flood-prone culvert rehabs, Hydro-Bell 'snaps' onto standard Snap-Tite® system machining, providing a larger, wider intake at the culvert entrance. Throughput is also increased as rushing water flows past turbulent eddies trapped by 'bell shaped' chambers inside the pipe, increasing flow by approximately 30 percent.
Numerous advantages make Snap-Tite®the best hydraulic culvert lining system
Entrance Loss Coefficient (ke) of approximately 0.2 for outlet control conditions?
An average flow increase of 30% compared to plain end headwalls under inlet control conditions
As head pressure increases, the Snap-Tite® Hydro-Bell system flow rate increases
Same reliable HDPE material and long service life as the Snap-Tite® culvert liner
"Snaps" onto the inlet end of the Snap-Tite culvert liner
No special training or tools required to install• Hydro-Bell makes Snap-Tite® the ideal hydraulic option to line failing RCP culverts
Available in all Snap-Tite® liner sizes 6" through 63"
The Hydro-Bell inlet device is the first device introduced in recent years that uses newer materials to capitalize on the effects of culvert fluid dynamics. Through this design, it is now possible to maximize the hydraulic efficiency (and/or reduce head loss) of a relined culvert.
---