View Video of Easy Culvert Rehab Using Snap-Tite®
Product Announcement from ISCO/Snap-Tite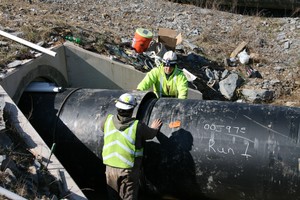 Today, there's an economical, "no-dig" solution with field-tested benefits, proving that rehabilitation is a better solution – with the Snap-Tite® Culvert Lining System. Click here to view a video of a culvert rehabilitation using the Snap-Tite® solution.
Utilizing solid wall high-density polyethylene (HDPE) pipe, a Snap-Tite® system actually outperforms the pipe it replaces. HDPE's smooth interior surface delivers better throughput – and with the inclusion of a gasket, assures a watertight seal at all joints, meeting ASTM D3212 requirements. Snap-Tite® also meets the AASHTO M326 standard for culvert relining.
Snap-Tite's® patented male/female machining at each end of the HDPE allows it to be 'snapped' together, piece-by-piece, and pushed into the full length of the existing pipe. It is available in lengths from two feet to 50 feet long, and is available for culverts with diameters from eight inches to 84 inches.
Snap-Tite® is easy to install. Nearly all the culvert renewal can be done off road with minimal disturbance to the right of way, without road closures. Most jobs can be completed with a backhoe, shovels, a come-a-long and chains.
For more information on this no-dig solution, call 1-800-CULVERT or visit www.culvert-rehab.com.

Play View Video of Easy Culvert Rehab Using Snap-Tite® Video on YouTube
---