Vertical Mounted Toroidal Inductor
Featured Product from ITG Electronics, Inc.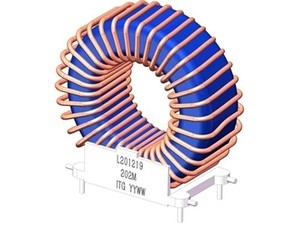 ITG Electronics, Inc. introduces the new Series of vertical mounted Toroidal Inductors for switch mode power supplies applications. These new series of inductors adopt low core loss powder core, exhibit excellent current handling capability, low leakage magnetics flux, no thermal aging concern. Vertical mount mechanical design saves board space. Inductance ranges from 40uH to 33,750uH. Custom values are welcomed.
For more information and an individual datasheet, please visit:
L201203 Series
https://itg-electronics.com/series/665
L201204 Series
https://itg-electronics.com/series/666
L201219 Series
https://itg-electronics.com/series/667
ITG Electronics, 175 Clearbrook Elmsford, NY 10523
Email: sales@ITG-Electronics.com
ABOUT ITG ELECTRONICS INC:
ITG Electronics headquarters is Elmsford, New York. ITG specializes in wire-wound power magnetic components design, product development and manufacturing. ITG is a preferred supplier for magnetics components to many US and worldwide major electronics OEM's. On June 1, 2016, ITG introduced its EMI Filter Products to the USA Market.
ITG factories are IATF/TS 16949, ISO 9000, ISO 14000, OHSAS 18000, QC 0800000, ISO 14064 Certified.