Power and Control in Today's Conveying Systems
Product Announcement from ITOH Denki USA, Inc.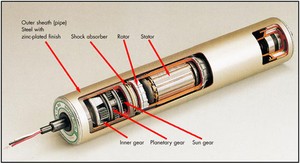 Features & Solutions
In today's progressive manufacturing and distribution environments, designing conveyor systems can be a difficult challenge. Complex problems often need to be solved.
Now there is an innovative and advanced engineering solution that meets the demands of a new age in production automation and flexibility. The POWER MOLLER® is a self-contained motorized roller that opens new horizons in handling system design. Its low profile and ease of installation make it the perfect choice when production efficiency and space savings are required.
Working Concept
The turning force of the motor (outer rotor) is transmitted through the shock absorber to the planetary gearing. The planetary gearing drives the inner gear which is affixed to the roller tube. The tube will rotate because the output shaft (stator) is held stationary by the conveyor frame.
"One Touch" Spring Loaded Shaft
The Power Mollers® spring-loaded attaching shaft enables the unit to be quickly installed or removed without disassembling the conveyor frame.
Built-in Shock Absorber
When articles are transported on roller conveyor lines, they can sometimes encounter a sudden stop, impact or acceleration that transmits a strong shock to the torque transmission system of the Power Moller®. The shock absorber provides protection by acting as a slip clutch between the motor and gearbox. The shock absorber is designed to slip at 150% of motor torque and will not function under normal conditions.
---