CE Series Linear Slides
Featured Product from ITT Compact Automation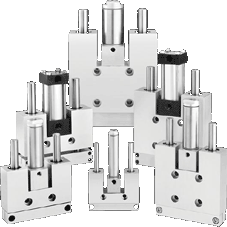 CE (Long Body):
The longer body spreads the distance between the guide bushings, contributes to the rod rigidity, best for longer strokes and higher load applications


Features:
• Stainless steel round line style
• Available Bore sizes: ¾", 1-1/16", 1-1/4", 1-1/2" and 2"
• Guide Bushings Types: (2 per guide rod)
• Linear ball with shaft seals, high precision
• Composite internally lubricated, high performance and cost effective

Guide Rod Types:
• Hard precision ground shafts provide smooth tooling plate motion under load.
• Oversize shafting utilized with composite bearing for greater rigidity with minimum rod deflection
• Guide rod materials:
• Standard hardened steel, hardened stainless steel, corrosion resistant coated hardened steel
• Aluminum ceramic coated lightweight.

Tooling plates:
• Machined mounting face.
• Combination tapped and counters Bored mounting holes.
• Close fit dowel pin holes and pinch type tooling plate connection.

Options:
• Shock pads, stop collars,
• Shock absorber mounting,
• Proximity switch ready
• Reed solid state switches available
• Normal fit dowel pin holes available.