Custom Guided Cylinders
Featured Product from ITT Compact Automation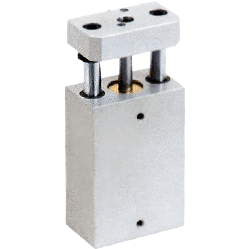 ITT Compact Automation manufactures custom guided cylinders to match your specifications.
Features:
20mm Bore
100mm stroke
Custom tooling plate
Special bearing rail
Heavy duty piston shaft assembly
Perfect for high-speed conveyor sorting applications requiring 6 msec cycle times with high moment loads.
Compact Automation offers durable, reliable and innovative industrial solutions with high value and low life-cycle cost to customers around the globe in diversified industrial end markets. With our extensive engineering capability and 96 patents globally with a combined 1,290 years of experience in over 120 product lines, comprised of 82,000 standard and 47,000 custom products ranging from custom automation to lift and turn cylinders, we can make your application a success no matter what the engineering challenge.
Compact Automation provides you with unsurpassed quality, capability and service to meet all of your critical engineering and application needs such as:
Ability to turn quotes in under 24 hours
Provide customer approval drawings in 48 hours
Distributor support with Application Engineers in the field
Our focus as an Engineered solutions provider
Expansive manufacturing capabilities
State-of-the-art machining
In-house Anodizing
We pride ourselves on our culture and our philosophy of bringing differentiated and highly engineered products to our customers, that's what sets us apart from our competition, we put you first, and we solve it.