Custom Rotary Actuator
Featured Product from ITT Compact Automation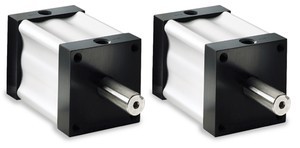 Custom Rotary Actuator for Carwash
Application Problem: A Carwash OEM required a way of rotating an overhead bar that contains multiple spray nozzles for the carwash. The requirement was to rotate at a specified rate and stop at 3 different positions around the vehicle ensuring a thorough job was being done for paying customers, while also providing a long lasting unit that requires little maintenance under harsh environmental conditions.
Custom Solution: ITT Turn-Act provided a custom 3 position rotary unit with a control cam and adjustable stroke control that was recommended to ensure the unit met the required performance. This new custom unit provides adjustable rotation and stops at all 3 positions meeting the OEM requirements.
Rotary actuators, cam and unitary plate are all constructed of NiTuff coated aluminum and shafts are 316 Stainless Steel with special seals to ensure longevity.
Customer Benefit: With this solution that was provided a custom rotational motion and corrosion resistance to constant water spray was achieved per the OEM specifications. While customers have the ability to fine tune stops during initial installation using an RSC feature.