Rotary Actuator for Security Scanners
Featured Product from ITT Compact Automation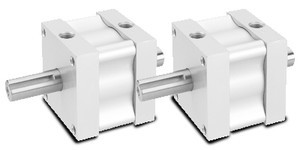 Application Problem: Explosives and narcotics trace particles in a walk-through security system for an OEM had required a rotary actuator to help rotate doors open and closed on the machine to prevent false readings and escapes. They were using standard linear actuators with slow and unsafe results and asked for assistance in coming up with a more robust solution.
ITT Custom Solution: ITT Turn-Act provided an OEM series rotary actuator with a double-shaft for creating a smooth exit door opening/closing. A proximity reed sensor feature was also incorporated to support improved sequencing of operation.
Customer Benefit:
Improved operation and faster throughput of test subjects for the OEM.
Improved esthetic appearance of the machine.
More rapid market acceptance at target market facilities due to improved operation.