Wire Rope Isolators from ITT Enidine
Featured Product from ITT Enidine Inc.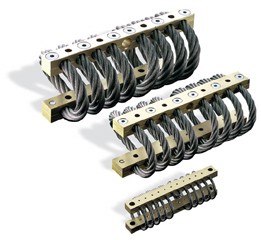 ITT Enidine Inc.'s Wire Rope Isolators are comprised of stainless steel stranded cable, threaded through aluminum alloy retaining bars, crimped and mounted for effective vibration isolation. With their corrosion resistant, all-metal construction, ITT Enidine Inc. Wire Rope Isolators are environmentally stable, high-performance shock and vibration isolators that are unaffected by temperature extremes, chemicals, oils, ozone and abrasives.
Featuring a patented crimping pattern, versatile mounting options and a variety of sizes, these helical isolator products can help ensure that your systems can effectively meet performance requirements in commercial, industrial, and defense industries. Enidine Incorporated's commitment to quality ensures that our products will satisfy the following industry standards: MIL-STD-810, MIL-STD-167, MIL-S-901, MIL-E-5400, STANAG-042, BV43-44 and DEF-STND 0755.
ITT Enidine Inc.'s WRI products are ideally suited for a broad range of applications. If a standard solution is not available, Enidine Incorporated can custom design an isolator to suit your specifications. Some of the more common alternate materials (for improved corrosion resistance, for example) include the use of 316 SS for retainer bars, cable and hardware as well as the use of coated-wire (for clean room applications). Also, many different mounting options and reduced loop configurations are practical alternative options.
We also offer a complete line of compact wire rope isolators for use in applications that aren't suited to our larger models.