Versatile Solution for Liquid Material Handling
Product Announcement from ITW Air Management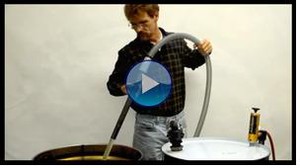 TheDual Force Vac System is a convenient and versatile solution for liquid material handling and spill clean up. Using powerful Transvector technology, the Dual Force Vac can either fill or discharge a 55 gallon drum in under two minutes. It switches easily -- with a 1/4 turn of a knob -- from fill to discharge mode. And the Dual Force Vac can handle viscous liquids and particulates.
SCROLL DOWN TO SEE THE VIDEO DEMO

Quiet and safe, the Dual Force Vac is air-powered with no moving parts, meaning no motor burn out and no shock hazard. It quickly installs on a 55 gallon drum and comes with a 10 foot hose and nozzle. An optional aluminum wand and squeegee are available to facilitate spill pick up.
Applications for the Dual Force Vac include:
Liquid transfers

Coolant sumps, even with solids

Sludge & waste water

Spill pick up

Containment aprons

Parts Washers
---