Choose a Paxton Belt-Driven Blower System
Featured Product from ITW Paxton Products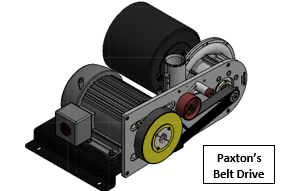 Paxton Products receives many questions as to why we offer a belt-driven blower, rather than a direct drive system. Let's looks at the features and benefits of each. Direct drive blower systems connect the blower head directly to the motor. Both the motor and the blower spin at about 18,000 rpm, so this requires a robust and expensive motor. The direct drive system also relies on the bearing in the motor to provide optimal blower life and performance. Unfortunately, the high-speed operation of the motor often results in bearing failure within a year of service. Once these blowers fail, the user may need to shut their entire line down while they ship that blower back to the blower manufacturer for maintenance. Through this process, the user not only has the cost of the repair, but also may suffer from the loss of production.
Paxton's highly engineered blower systems counteracts the failures with an inexpensive alternative, by using a two-pulley system connected by a drive belt, to allows the motor to run at 3,400 rpm while the blower runs at 18,000 rpm. This belt-drive system provides longevity and reliability, with an easy maintenance routine performed by user's maintenance team. With proper belt maintenance, downtime is minimized. In fact, with proper maintenance, Paxton's belt-driven blowers carry a three-year warranty.
Below is a comparison chart of a Paxton Belt-Driven Centrifugal Blower and a direct drive blower.
BLOWERS

BENEFITS

DRAWBACKS

Paxton's Belt Drive

Flexibility in terms of RPM Speed to adjust to specific application needs
Longevity: comes standard with a best in class 3-year warranty
Cost-efficient- up to 35% more efficient to operate than our competitors blowers
Maintenance can be completed in-house
Does not require a special variable frequency drive (VFD)
Standard 3 phase induction motor (readily available)

Belt dust may prohibit use in class 10,000 clean room applications

Direct Drive

No belt- ideal for class 10,000 clean room applications
Compact
Fewer moving parts
Custom-made to each customer

Bearings often fail within a year
Expensive bearing replacement required annually
Bearing replacement usually must be completed by the manufacturer, causing extended downtime
Expensive to change speed and performance