Supercapacitors Offer Massive Capacitance, Low Cost
Featured Product from Illinois Capacitor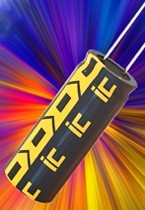 Illinois Capacitor's low-cost DGH Series Supercapacitors are offered in 21 different value/voltage combinations, from 0.5 to 350Farads, with voltage ratings from 2.7 to 5.5WVDC. With their massive energy storage, they can provide instantaneous bursts of power to smooth power interruptions, supplement batteries or even be used in place of batteries.
Applications include: battery backup or alternative, UPS systems, emergency lighting, battery pack alternatives, energy harvesting, memory backup, battery/capacitor hybrids, solar lighting, pulse power, DC to DC converters, mechanical actuators, LED displays, power surge circuits and more.
Custom packs are also available to combine multiple capacitors for combinations of higher voltage ratings or capacitance. See data sheet for lead styles and case sizes.