Adjustable-Torque Handles
Featured Product from Imao Corporation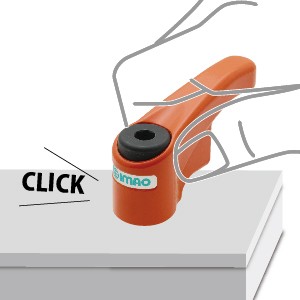 Torque handles that provide tightening with steady torque for preventing overtightening.
ADJUSTABLE-TORQUE HANDLES allows setting a desired tightening torque. Tightening force depends on the operator. Applying too much force causes scratches or damages and lack of tightening causes rattling.
The handle clicks to indicate completed tightening. Recognizing to reach a desired torque is impossible.
The handle position is adjustable. Turning the handle in a confined space is difficult. When the handle is lifted, the teeth disengage from the locking element to adjust the handle position.