Quick Locating and Clamping
Featured Product from Imao Corporation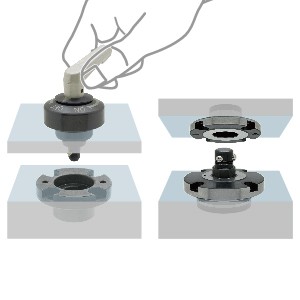 Can change and locate various attachments and small/big fixtures quickly by one-touch operation.
The tapered design allows easy operation with excellent repeatability by dual contact.
Knob/Handle operated, Air operated & Screw held types are available.
Feature
High repeatability of 10μm by dual contact!
Slash set-up time greatly!
Pneumatic Type: New style of quick zero point system!
Knob/Handle operated type: A safe system with high visibility of Locked/Unlocked states by the knob position!
Standard type: Simple & low cost locating parts!
Model: AMWF, CP723, CP722, CP731, CP720, CP721
For further information, check our catalog!