Mechanical Zero Point! IMAO Pull Clamping System
Featured Product from Imao-Fixtureworks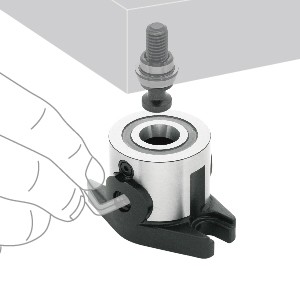 IMAO Modular Pull Clamping System is mechanical zero point clamping system for quick fixture change. Also ideal for 5 axis workholding.

Watch>> MODULAR PULL CLAMPING SYSTEM Demonstration IMAO CORPORATION
Reduce setup time & machine downtime!
Positioning & clamping in a single setup

Perfect repeatability!
Quick fixture change within 0.005 mm

High clamping force!
Max. 25 kN clamping force
New Style of Pull Clamping System
Modular Pull Clamping System
Compact cylindrical body allows machining from five sides without tool interference. Precise dual contact provides excellent locating repeatability at 5μm.
Modular Pull Clamping Systems allow quick and precise fixture change.
Can be used as a universal fixture by standardizing the mounting pitch for Clamping Screws.
Model : CP150's