One-Touch Fasteners make Changeovers Easy
Featured Product from Imao Corporation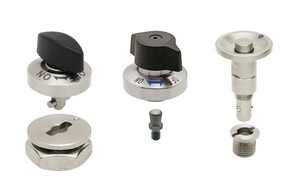 Watch>>>Quick locks for changeover - One-Touch Fasteners for limited space
One-Touch Fasteners are quick and secure locks for frequent changeover of machine and fixture.These fasteners are alternatives to screws.One-Touch Fasteners can lock the component just by turning the knob or pushing the button.You don't need any tool.And One-Touch Fasteners clamp the components securely with cam locking or ball-locking.The "ON / OFF" indicator makes locked / unlocked condition visible and increases safety.One-touch fasteners provide a quick, simple and secure change over solution.
Quick fasteners alternative to screws for quick changeover with no tools! One-Touch Fasteners slash setup time and provide positive locking with easy operation. For anyone who is having problems in set-ups!
Product lineup of One-Touch Fasteners has been widely expanded to adapt to more applications! New 3 types require just tapped hole or through hole on the base part!