Quick Locks for Changeovers!
Featured Product from Imao Corporation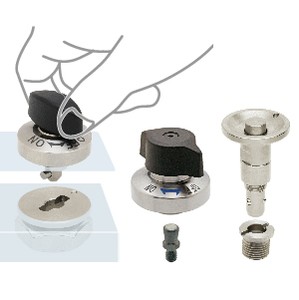 Quick & Easy Locking!
Watch>> New Lineups of "One-Touch Fasteners" -IMAO CORPORATION-
Alternatives to Screws
Can be clamped just by turning the knob/pushing the button. No time wasting for tightening screws and nuts.
Secure Clamping
Cam locking/ball locking mechanism
Visible Safety
Quarter turn fasteners have ON and OFF marking.
Ball lock fasteners clamp the part upon releasing button.
Models : QCTH, QCTHL, QCTHH, QCTHA, QCTHS, QCWE, QCBU, QCPC, QCOW, QCHC-N, QCBA, QCMA, QCSJ