Plasma Surface Technology Solutions
Service Detail from Impreglon, Inc.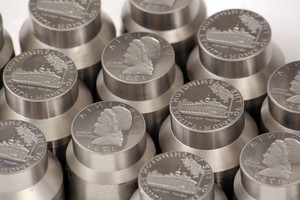 Impreglon ,Inc. specializes in PVD (Physical Vapor Deposition) coatings. Over the past decade, these coatings have become standards in many industries.
Our MAXIT line of PVD finishes meets these wear expectations and more.
Automotive Applications

Impreglon (RI) is an approved source for simulated gold finishes for Ford Motor Company and General Motors Corporation. Our coatings, applied directly onto chrome plated substrates, meet the stringent environmental requirements of GM6430M, including corrosion, adhesion, chip resistance, and weathering.
Medical Applications

Impreglon (RI) can provide bio-compatible coatings meeting Class 3 requirements, which include contact with skin, bone, tissue or blood. They are approved for non-intended implant use on both disposable and reusable instrumentation. These coatings are capable of withstanding ethyleneoxide, radiation, and autoclave sterilization. They can be applied to a variety of substrates including stainless steel, titanium, chrome, ceramics and plastics.© 2009 Impreglon US - All rights reserved.
Substrates PVD coatings:
• Stainless Steel
• Ceramics
• Glass
• Chrome
• Titanium
• Chrome plated metal or plastics
Functional Coatings:
• Gold
• Silver
• Titanium Nitride/ Carbide
• Titanium Aluminum Carbonitride
• Chromium Nitride
• Zirconium Nitride / Carbide
Decorative Colors PVD coatings:
• Gold
• Black
• Brass
• Bronze
• Gun Metal
• Rainbow
• and Others
Markets Served:
• Automotive
• Cutlery
• Electronics
• Hardware
• Plumbing
• Marine
• Medical
Click here to send us an email with your questions
---