World-Class Aerospace Manufacturing Services
Service Detail from Impro Industries USA, Inc.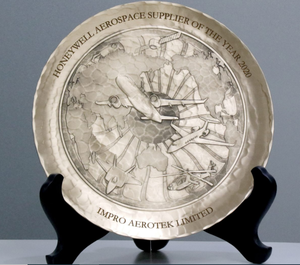 Impro Aerospace has recently changed its name to Impro Aerotek with the intention to offer even more manufacturing services at the global platform to our customers. Impro Aerotek is a dedicated manufacturing plant equipped with precision casting, machining, special process and testing capabilities to serve a focused group of customers in aerospace, medical and energy markets.
As the Strategic Sourcing Manager of a major Impro aerospace customer put it, "To Impro's credit, you have been very successful in the model of casting, machining, processing and any value-add assembly, as a one stop shop…"
Recently, we received from GE Aviation the "2020 Excellent Supplier" recognizing our "outstanding performance in new product development, quality and delivery." This is shortly after we were awarded the "2020 Honeywell Aero ISC Supplier of the Year" showcasing Impro's excellent performance in quality, delivery and cost during 2020.
To learn more about Impro Aerotek's capabilities and start your next project, please Contact Us at sales@improusa.com.
Investment Casting Process Capabilities
Material

Weight

Size Limit

Surface Finish

Melting/Pouring

Stainless Steel/Low Alloy Steel

1oz to 100 lb/0.03~45kg

ø 23.6″ x23.6″x23.6″/
600 x 600 x 600mm

Ra3.2 (Ra2.8 achievable if specified)

Air Melting/ Gravity Pouring & Rollover Pouring

Super Alloys

0.07-66lb/

0.03-30kg

ø19.7"x 23.6"/

ø500mm x 600mm

Ra3.2 (Ra2.8 achievable if specified)

Vacuum Melting and Pouring

Titanium alloys

0.07-55lbs/
0.03-25kg

ø17.7″ x 21.7″/
ø450mm x 550mm

Ra3.2 (Ra2.8 achievable if specified)

Vacuum Melting and Centrifugal Pouring

Aluminum

0.07-33lb/ 15kg

ø 19.7"x19.7″x19.7"
500 x 500 x 500mm

Ra3.2 (Ra2.8 achievable if specified)

Air Melting and Counter Gravity Pouring
Precision Machining Process Capabilities
3 to 5-axis machining services for Inconel®. Capable of machining parts from 1 mm to 1,000 mm length, 1 mm to 1,000 mm width and 1 mm to 500 mm height with +/-0.0005 mm straightness tolerance. Prototype and low to high volume production offered. Serves aerospace, energy, medical and other industries. AutoCAD, SolidWorks® files and blanket orders accepted. Lean manufacturing capable. Emergency and rush services available. Meets ANSI, ASME, ASTM, AWS, QS, SAE, TS, DOT and AS standards. RoHS compliant. NADCAP and Six Sigma certified. JIT delivery.
Other In-house Capabilities and Special Processes
Tooling design and manufacture
Heat treatment
Surface treatment
NDT and laboratory testing
Certification and assembly