Solvent Recovery Systems & Distillation Equipment
Product Announcement from InCon Process Systems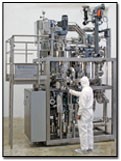 InCon Processing LLC manufactures custom distillation equipment and solvent recovery Systems to match your specifications.
WE DELIVER YOUR COMMERCIAL SYSTEM
Using InCon's process knowledge and GIG Karasek's processes and internationally acclaimed fabrication expertise, we will design, fabricate, test, deliver, and startup your system. GIG Karasek, the world's largest thin film system fabricator has built thousands of systems and has extensive fabrication capacity of up to 100 ton vessels in just about any metallurgy required, with specific expertise in Titanium and Inconel. The result will be on time, on budget, and will meet agreed-upon specifications.
IPS-GIGK ENSURES RELIABLE OPERATION
As a Toll Processing Manufacturing company, InCon Processing developed technical and service expertise to keep our plants up and running. So we at InCon Process Systems (IPS) use the same process and technical methodology that maintains the systems 24 hours a day, 7 days a week is available to keep your process up and running.
These products and applications are also known as Wiped Film Evaporators, Agitated Thin Film Evaporators, Short Path Distillation, Toll Distillation, Wiped Film Distillation, Agitated Thin Film Distillation, Monomer Distillation, Polymer Distillation, Vacuum Distillation and High Vacuum Distillation.
---