Thin Film Evaporators by InCon Processing
Product Announcement from InCon Process Systems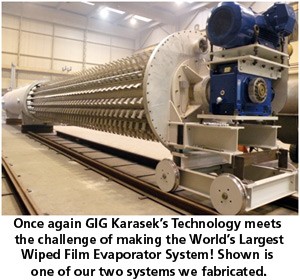 Question: Do you have applications so large your Thin Film Supplier cannot scale up? Shouldn't you gain economy of scale in your large process and not be limited by suppliers who think small?
In our last Newsletter, we described starting up the World's Largest Short Path Evaporator. Now GIG Karasek has completed another client benchmark challenge from a client. Here is the challenge:
Build it bigger to meet our growing world class plant throughputs!
Design the technology and fabricate it to our specifications and do it in record time under a penalty contract.
While you are working, build not one but TWO systems.
Meet the intense scrutiny of a competitive bid analysis as the client visited every major evaporator workshop in the world
Our client maintains strict controls over technical disclosure. What we can tell you is that these two World's Largest Thin Film Evaporators:
Are installed in a process where a competitor's Thin Film Evaporators have failed
Have an inside diameter of over 2000 mm
Have a total length of 13 meters.
Weigh in at a whopping 65 tons empty.
Are operating on specification continuously.
What we can disclose is that our client told us that the key in meeting performance specifications was the GIG Karasek POWERFILM Rotor Technology. This state of the art wiper system was developed by GIG Karasek to limit fouling, provide superior evaporation, and give superior operating uptime performance.
To receive a presentation meeting or for more information email: rscully@ips-gigk.com
---