CHOOSING AN ELECTRIC ACTUATOR COMPANY?
Featured Product from Indelac Controls, Inc.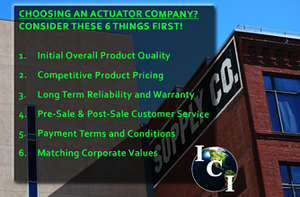 CHOOSING AN ELECTRIC ACTUATOR COMPANY? 6 THINGS YOU NEED TO KNOW!
The ability to choose the most appropriate electric actuator company is a key part in project or product line development. In the automation process, actuators are the heart of the system.
The ability to choose the most appropriate electric actuator company is a key part in project or product line development. In the automation process, actuators are the heart of the system. Most of the time, once a company pairs up with an actuator company it is a long-term commitment, and the switching costs can be very high. Therefore, the relationship between the actuator supplier and the user must be based on several important considerations.
1.Quality Of The Product
Do you want to constantly be worried about down time and repair costs? No? Then Go for the Best Products! Look for an electric actuator company that is known for selling quality actuators as well as having trickle down quality values. By this I mean look for a company where its top management is devoted to producing a quality product. A great product is the result of a deep-rooted standard of high-quality practices, which can only begin at a company's top.
2.Reliability of The Actuator Company
The electric actuator company that you are choosing has to be reliable. As always in business, you need to know who you are dealing with. Always ask for certification on the products. There are many different highly qualified, independent agencies that validate the performance of various products. two widely known agencies, for example, are Underwriters Laboratories (UL) and Canadian Standards Association (CSA). Remember to look for their logo on the product that you are considering. If your application is in European Union, look for the CE certification logo. Reliability can also refer to delivery. Ask yourself, "can this actuator company be there for my company in a pinch"? Make sure to ask for references.

3.After Sales Service
Some customers and actuator companies alike think that after purchasing an actuator and automating a valve is the end of a sale. If you are a customer who sees it that way, then it won't matter which actuator company you choose. However, if you value service post sale you will need to look for AN actuator company that offers this before you make your purchase. American actuator companies are historically known for good customer service.

4.Matching Corporate Values
Values can range widely from company to company. Some actuator companies place a high importance on supporting the local economy as much as possible, others place a high importance on going green. What every your companies values are, look for those qualities in your actuator supplier. Your relationship will be more successful and you may even find additional opportunities together.
5.Payment Options
In today's world there are more payment options available to the buyer than ever before. The most preferred is to maintain an open account the actuator company. These open accounts come with varying terms depending on your credit score, and supplier preference. Beyond open accounts, some other common methods of payment are: credit card payments, ACH, and bank wire transfer.
6.Pricing
The goal of a business is to be profitable. However, cheaper does not always mean better. Watch out for the cheap, but very poor quality products; which end up being a waste of money the long run. American made products are typically more expensive initially, but saves money in the lack of repairs and replacements, or god forbid a plant shut down.
Watch>>Indelac Controls, Inc. Company Overview
Indelac Controls, Inc. (ICI)
Indelac Controls, Inc. (ICI) manufacturers a full line of quarter turn rotary electric actuators used for valve and damper automation. Founded in 1986, Indelac was incorporated as an "S" corporation on November 30, 1987. ICI takes pride in being a family owned and operated electric actuator manufacturer for over 32 years. All of ICI's production is based in Northern Kentucky, though you can find our products in all 50 U.S. states and on 6 continents around the world. At Indelac, we are one big motivated family, and our family is dedicated to advancing the technology we use, along with our employees'expertise in a constant effort to better serve our customers'automation requirements. Our upgraded facility continues to utilize state-of-the-art machinery throughout the manufacturing process assuring the highest possible quality using American made products. Indelac's main goal as an electric actuator manufacturer is to design, develop, and manufacture a high quality electric actuator at a competitive price, while maintaining on-time delivery. ICI's product line consists of electric actuators with torques ranging from 100 lb-in output torque through 27,300 lb-in output torque, as well as offering an array of controls for ordinary on/off controls, to sophisticated process control applications.