K series rotary electric actuator
Featured Product from Indelac Controls, Inc.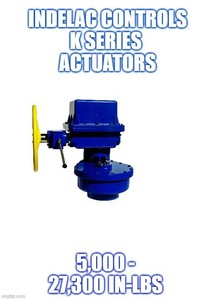 K Series
This series of heavy-duty reversing actuators were developed in 1995 and went into production early in 1996. ICI's K series rotary electric actuator is a machine that was designed to automate quarter turn equipment requiring up to 27300 lb × in (2275 lb × ft) torque. The K series actuators are equipped with a combination spur gear-worm/worm gear drive train providing efficient and quiet operation, resistance to back driving and long maintenance free service. The heavy-duty sand-cast aluminum enclosure meets NEMA 4 specifications and is equipped with a thermally bonded ultraviolet resistant polyester powder coating that not only enhances its appearance but is also a tough corrosion resistant coating.
Standard equipment includes 115Vac-1ph continuous duty motor with thermal overload protection, heavy duty hardened steel spur/worm with bronze worm gear, electronic torque sensor, two limit switches wired for light indication, stainless steel fasteners, 300 series stainless steel output drive, declutching manual override with hand wheel, visual position indicator and polyester powder coating.
Watch>>Indelac Controls, Inc. Company Overview
Indelac Controls, Inc. (ICI)
Indelac Controls, Inc. (ICI) manufacturers a full line of quarter turn rotary electric actuators used for valve and damper automation. Founded in 1986, Indelac was incorporated as an "S" corporation on November 30, 1987. ICI takes pride in being a family owned and operated electric actuator manufacturer for over 32 years. All of ICI's production is based in Northern Kentucky, though you can find our products in all 50 U.S. states and on 6 continents around the world. At Indelac, we are one big motivated family, and our family is dedicated to advancing the technology we use, along with our employees'expertise in a constant effort to better serve our customers'automation requirements. Our upgraded facility continues to utilize state-of-the-art machinery throughout the manufacturing process assuring the highest possible quality using American made products. Indelac's main goal as an electric actuator manufacturer is to design, develop, and manufacture a high quality electric actuator at a competitive price, while maintaining on-time delivery. ICI's product line consists of electric actuators with torques ranging from 100 lb-in output torque through 27,300 lb-in output torque, as well as offering an array of controls for ordinary on/off controls, to sophisticated process control applications.